El Cajon Shower Replacement
If you have a broken shower or you just want to upgrade your existing shower for the better, then you need a good shower replacement service. Fortunately, you found Bathroom Renovation, the best San Diego, CA shower replacement company in town that will never disappoint.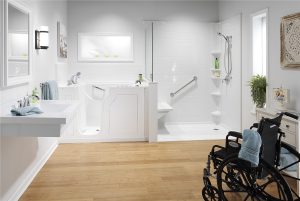 With Bathroom Renovation, your shower replacement process will be quick, smooth, cost-efficient, and, not to mention, friendly to your budget and timeline. We offer a long list of top-of-the-line, attractive, and durable shower units for you to enjoy. We also offer great features and accessory choices for toilets and baths to match your shower.
So if you want a top-notch, brand new, and fully refurbished shower replacement without the expensive costs, Bathroom Renovation is here for you. Our bathroom improvement products and services will definitely satisfy your needs.
Call Bathroom Renovation at (619) 639-8608 for your Free Consultation!
Fast, Affordable Shower Replacement
Bathroom Renovation is one of the favorites among San Diego shower replacement service providers due to our excellent work ethic and professionalism.
The shower replacement operations that others do in a week's time, we do in just one day. Additionally, you won't have to mind the mess and clutter that the construction work might cause because our experts work with efficiency and cleanliness, ensuring that no debris or dirt is left behind or improperly disposed of.
Whether you're looking to replace the entire shower of your master bathroom or just replace your shower's small accessories, we can accommodate your requests from small-scale work to large-scale projects. We're not only concerned with the style and aesthetics of your shower. We also make sure that they're in their top condition, allowing them to last their expected lifespan.
Our top-notch products can make your shower more convenient to use. If you've experienced having trouble with shower damage, we offer non-porous, grout-free, and highly durable materials and structures to go with your new shower. You will get all our finest products for the best prices in the market.
Functional Shower Conversions
At Bathroom Renovation, we are ready to provide industry-level shower and bathtub conversion services. If you're looking to change your units, we can do it for you for the best prices and workmanship.
Our experts can help you decide on the best new features to add to your brand new shower or bathtub unit. We are open to hearing about your personal goals. If you want to highlight the functionality of your units or if you want to upgrade the aesthetics of your bathroom, then our expert designers and engineers will make sure that they recommend the perfect specifications for your preferences.
On top of these, we are ready to improve even the accessibility features of your shower units. At Bathroom Renovation, safety is a high priority. We prioritize safety in your new shower design and layout, ensuring that all potential hazards are taken into account.
Get ready for the best San Diego shower replacement services from a company you can trust. Contact Bathroom Renovation today for a free consultation with shower replacement experts.
Accessible Shower Updates
One of the things we're proud to do at Bathroom Renovation is to help all kinds of people with their specific needs. We are fully equipped to create showers designed to cater to differently-abled people.
One example is our top-notch open showers designed so people can easily enter them. Our no-barrier and low-barrier shower plans can accommodate people with physical injuries, arthritis, hip pain, or joint pain. We can also design a layout plan for families who need extra space for physical therapy or assisted bathing. Whatever special needs you have, we are more than ready to assist you in your shower replacement endeavor.
To add to our services geared toward improved comfort and convenience, you can also avail yourself of our special features, including flip-up seats, shelves, holders, shower benches, and tub grab bars. We can also install walk-in tubs with built-in water jets that can massage your body for a fantastic spa experience just inside your home.
Let's Talk Now – Free Consultation
Get rid of your old, outdated, or non-functional shower units and replace them with top-of-the-line, fully-refurbished, modern products from Bathroom Renovation. All our bathroom products and supplies are guaranteed to last for a long time, resisting all known causes of damage.
Contact us today, and we'll be ready to hear all about your goals and preferences. No matter what they are and how specific they may be, we guarantee the full use of our resources, expertise, and manpower to provide you with the best San Diego shower replacement that the industry can offer.
For top-notch shower conversions, renovations, repairs, the addition of accessories and features, and a ton of other services, all you need is Bathroom Renovation.
Call Bathroom Renovation at (619) 639-8608 for your Free Consultation!