Jamul Bathroom Remodeling
As one of the most special, private, and personal parts of a house, the bathroom is a space you can't afford to ignore over time. Mold, moisture, aging, dirt, etc.—with all the many reasons why bathroom fixtures and other amenities lose their style, function and value through the years, you need a San Diego bathroom remodeling company that can provide you with solutions. For all your bathroom construction needs, Bathroom Renovation is the right partner for you.
Enjoy several benefits with our top-of-the-line bathroom remodeling services. By remodeling your bathroom, your non-functional amenities and appliances will be working for you again in a better state.
You will also be able to rejuvenate your bathroom into a cleaner and fresher place so you could relax better. Any previous damages, leaks, rusts, and other imperfections will be gone. Finally, you will spend less on cleaning and maintaining your bathroom, as remodeling can upgrade the general layout, structure, and condition of the area.
You can acquire all these benefits from Bathroom Renovation, the leading San Diego bathroom remodeling company. We offer top-notch bathroom upgrade, repair, installation, refinishing, and replacement services that can make your bathroom's best look. We will improve your bathroom's durability, aesthetics, and functionality—all features and components. Get ready to have an improved quality of life with Bathroom Renovation's first-rate San Diego, CA bathroom remodeling services!
Call Bathroom Renovation at (619) 639-8608 for your Free Consultation!
One Day Bath & Shower Renovation
Bathroom Renovation is capable of delivering high-quality remodeling services in one day. But don't mistake our operations to be hasty and reckless. You will be able to enjoy fully furnished and upgraded bathrooms in no time with the guarantee that all the construction work is fine and top-notch.

We work fast because we have tons of experience in what we do. But it doesn't mean that we work with just the same old styles and features. Bathroom Renovation offers a wide range of upgrades in features, amenities, appliances, design, and structures.
All you will need to upgrade your bathroom is available in our inventory. We have the shower handles for your shower, the benches to add to your interior, and all the other hardware accessories you might need. You also don't have to worry about the quality and lifespan of our products.
If you're going to purchase our top-of-the-line lavatories, tubs, liners, and showers, you're going to get them at their best quality as offered by the San Diego bathroom remodeling industry. We quality control them to make sure they are resistant to all sources of damage, like mold and moisture. Say goodbye to premature cracks and molding with Bathroom Renovation's top-notch bathroom upgrade products.
Shower or Bath Conversion
It's important to work on your bathroom remodeling with people you trust. Otherwise, you may end up spending weeks and even months on a frustrating construction project.
With our bathroom experts' sharp focus, unwavering dedication, and excellent work ethic, we can provide shower or bath conversion and all other bathroom construction services for you in just one day. Our professional bathroom construction experts know how to work efficiently and professionally, ensuring that time, energy, and other resources are properly used. Converting a bathtub to a shower or a shower to a tub takes a lot of resources. But our experts can handle the process effectively in no time.
Walk-in Tubs & Accessibility Options
Bathroom Renovation offers a great accessibility feature in our top-of-the-line walk-in or step-in tubs.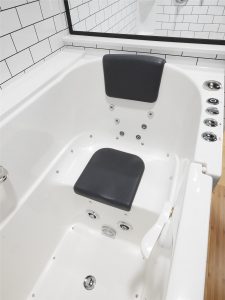 You can never go wrong with spending more on comfort and ease of use. Our unique tubs have a watertight door that significantly lessens accidents and increases the comfort of usage. These units also have several amazing features, such as whirlpool jets, hand showers, and heated backrests.
Moreover, our special walk-in tubs can be customized to add more features to their default state. You can add accessories such as shower bars, flip-up seats, shower enclosures, barriers, tub grab bars, and many more! Indeed, your new bathtub unit will change the way you relax and take a bath in your own home.
Your Bathroom Remodel Partner
Bathroom Renovation is the leading San Diego bath remodeling company in town.

We are a long-trusted partner of many clients in the city as we always leave them fully satisfied with their newly refurbished, durable, functional, and beautiful bathrooms.
Our services are top-notch. Our bathroom accessories, amenities, and elements are high-quality and low-maintenance. Indeed, Bathroom Renovation is your best bet for all your bathroom remodeling needs.
When you choose us as your partner in bathroom remodeling, expect that the entire process will be handled smoothly and professionally. We can do the full set of services needed in producing a top-notch remodeling operation, from repairs, removals, and replacements to installations and upgrades.
With Bathroom Renovation, rest assured that you will receive fast, efficient, and high-quality San Diego bathroom remodeling services.
Let's Talk- Free Expert Consultation
Get brand new long-lasting, beautiful, and functional upgrades through a full-set bathroom remodeling service with Bathroom Renovation, the best San Diego bathroom remodeling company.
Choose among a wide selection of upgrades, from bathroom renovations and replacements to upgrades and additions of features and amenities. We can even check your bathroom first and have free consultations and on-site inspections before we begin our operations. Get all these in one, fast-paced day of highly efficient and cost-effective operations by seasoned experts!
Call Bathroom Renovation at (619) 639-8608 for your Free Consultation!